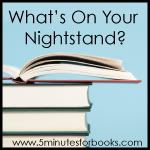 I am two days late to do this fun monthly report - but I thought I would join in anyway and try to be on time next month! Click
here
if you would like to join in.
The idea is to take a picture of the books on your nightstand and give reviews about books you have recently read. So here is my nightstand:
The stack on the left is my to-be-read pile. The stack on the right are the ones I have currently finished. These include
Love Begins With Elle
,
Searching For Eden
,
The Perfect Life
, and
A Chance to Die
.
Love Begins With Elle
written by Rachel Hauck was very enjoyable. Rachel Hauck writes with a young, contemporary voice and I really enjoyed the storyline of this book. I will definitly look for more books by her.
Searching for Eden
is by one of my favorite authors, Linda Nichols. It contains drama, mystery, and romance - my favorites! If you haven't read her, you should because she is really excellent at character development and a strong storyline.
The Perfect Life
is by Robin Lee Hatcher. It's the story of a woman who "has it all" and suddenly the perfect life she has always led - isn't so perfect at all when her husband is accused of having an affair. It's a very compelling story.
A Chance to Die
by Elizabeth Elliott is the story of Amy Carmichael, missionary to India. This book stretched me. Amy's dedication to God and His plan for her life amazed me. What she was so willing to do and give up humbled me. She was an amazing woman with an amazing love for God and for His people. This is a woman who is a true hero of the faith. Sadly, I'm not sure many Christians really know about her or her story.
Alrighty then. Hopefully next month the pile of books on the left will be the pile of books on the right and I will have a whole NEW stack of books on the left. Now that thought sounds like a little bit of heaven to me.