I have been intending to post about our trip last fall to Italy, Greece, and Turkey but I have kept putting it off because I have no idea how to put into words such an incredible experience. I think I am finally ready to begin and I have decided to do it in "parts" so that I can keep it all straight in my head.
Our church presented this trip to my husband and I as my husband's sabbatical. Our denomination states that pastors should take a sabbatical after every six years of service in one church. We have been in this particular church for 18 years and my husband has never taken a sabbatical. So it was mutually decided upon that we should take this educational cruise that was going to follow the second and third missionary journey of the Apostle Paul. We started planning the trip about 8 months in advance and it sounded really exciting then. But as it got closer and closer, reality set in and I had to deal with a few issues, one being my terrible fear of flying. I have always had a serious fear of heights and flying has never been easy for me. This fear has gotten worse with age. The thought of flying overseas on a 14 hour flight filled my heart with very anxious thoughts to where I was even trying to think of ways to back out of it. But I knew how much this trip meant to my husband and I have always determined that my fear would not keep me from "doing things" so I decided to talk to my doctor about it. He gave me a prescription for Zanex and everyone I talked to told me what a wonder drug this was. Now you have to understand that I do not even take Tylenol unless I really, really, have to. I just have an aversion to taking medicine (it must be another phobia of mine!) But I was at the place that I would do anything to make this trip happen. Another issue I have is that I had gone on one boat ride in my life, a dinner cruise, and it had made me extremely seasick! I was beginning to believe that this trip was not going to work for me. My doctor also gave me a seasick patch to wear and he told me to put it on the morning I got on the plane. So, I drugged myself up and off I went to see the world! I took one pill and it may have taken the edge off of my nervousness but I was still pretty apprehensive. Seven hours into the flight somewhere over Greenland we hit some turbulence. I looked at my husband and he suggested I take another pill. Gulp! Down it went. From that point on I have absolutely no recollection of anything that happened until I woke up in a hotel room in Venice. My husband tells me we spent some time in Amsterdam, caught another plane, flew over the Alps,(which he said were incredibly beautiful), landed in Venice, took a bus, checked into our hotel, and I woke up just in time for dinner! My husband said I was awake just very very groggy. He said I shuffled everywhere we went and my speech was slurred. I can only imagine what I must have looked like - I am so thankful we didn't see anyone who would have known me! What a strange feeling! I woke up not knowing where I was or how I got there! I was still feeling rather woozy but I changed my clothes and went to dinner. I still don't remember what I ate that night. After dinner we took a short train ride to Venice and walked through that beautiful city and rode a gondola. I remember parts of the evening but I am so sad that I don't remember alot of it!
Here is our gondola ride - the picture is blurry but it pretty accurately shows how I was feeling!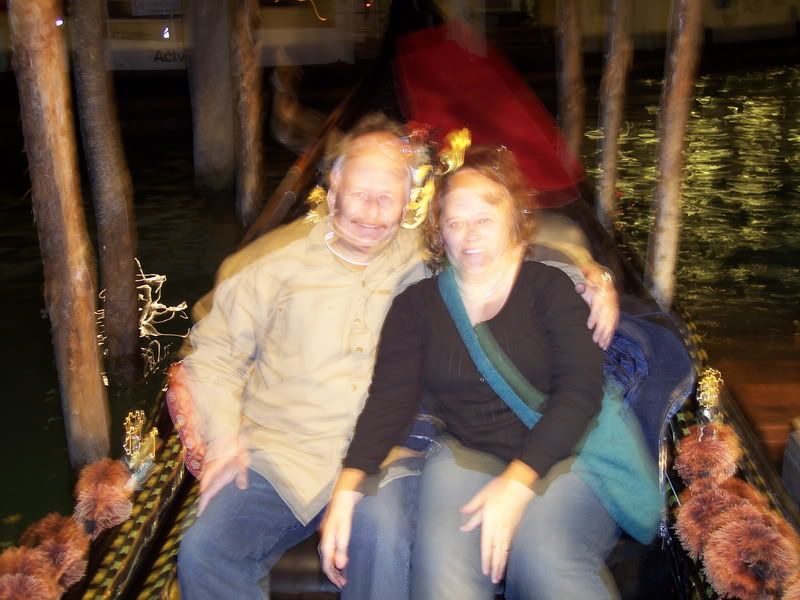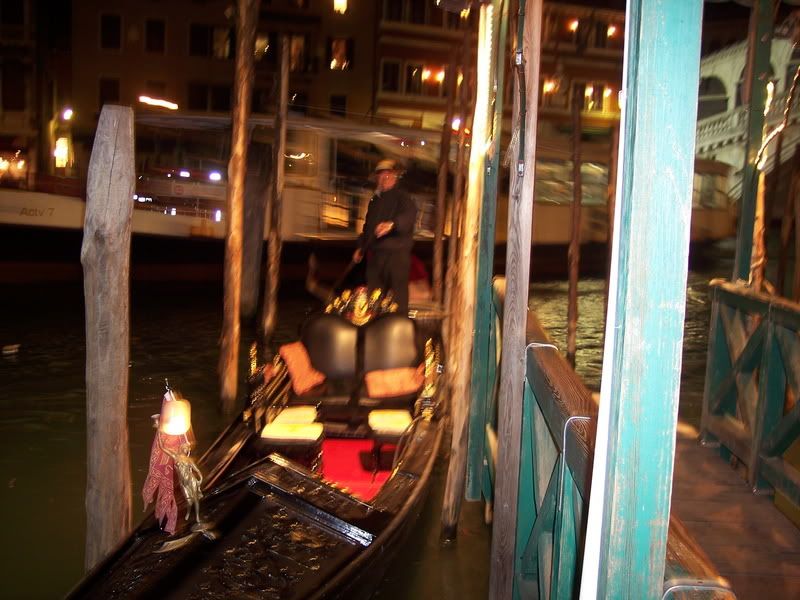 From what I remember that night, Venice was very lovely and I felt like I was in another world!
We went back to our hotel room and after a good nights sleep, I was awake again and ready to enjoy this trip in full! We spent the day touring Venice with a very knowledgeable tour guide and we enjoyed lunch in a little Italian restaurant. I had gnocchi with cheese sauce and tiramisu for dessert - it was amazing! We toured a glass factory and a Byzantine church and of course St. Mark's square. Here are some pictures of our day: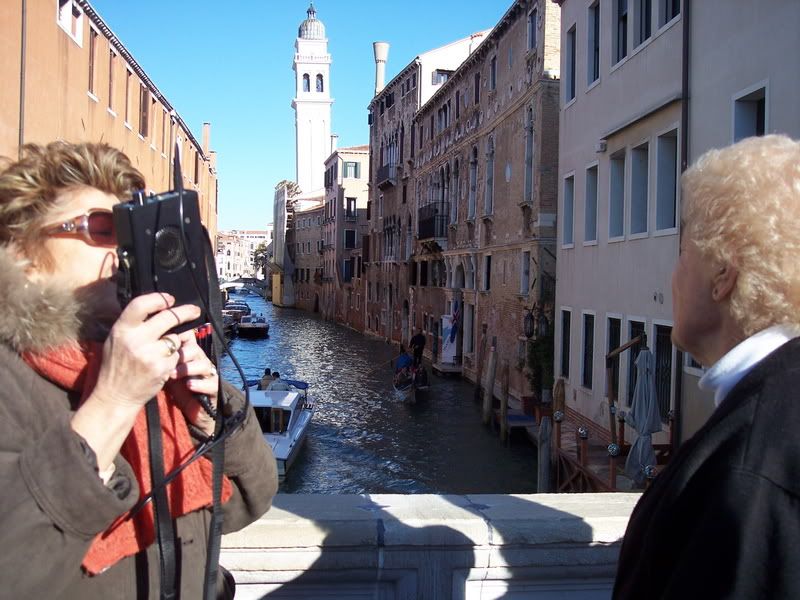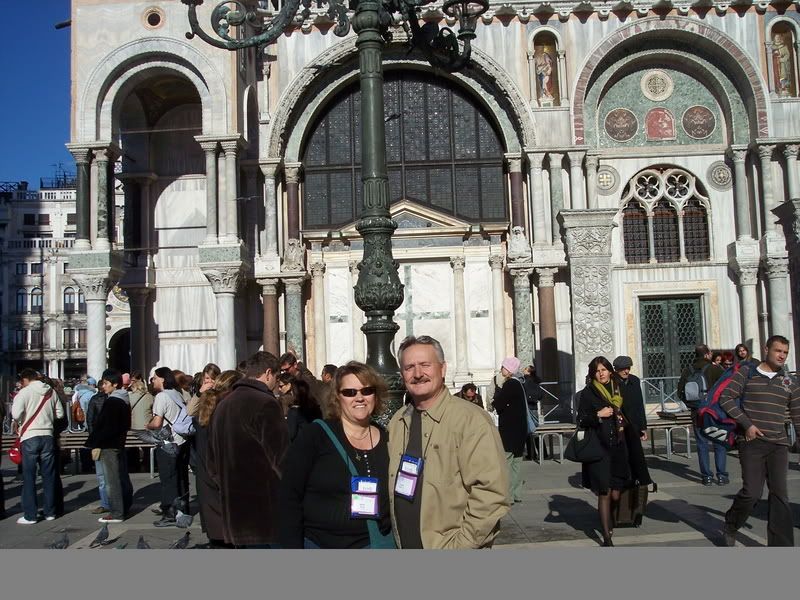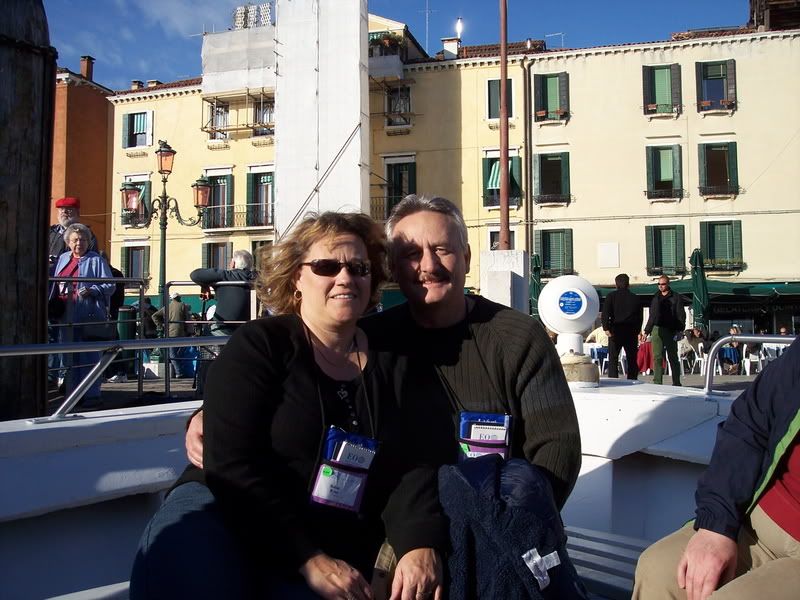 Late that afternoon we boarded our ship and prepared to sail to Corinth to begin our tour of Greece. Here is a picture of our ship:
It was a nice ship, not a luxury liner, it only carried 500 passengers. But the crew was very nice, seeing to our every need and the food was wonderful. We sailed all night and all the next day and night to get to Athens. The first night was a little rough. I was thankful for my patch! About 3:00 in the morning the water started splashing on my window and I began having thoughts of the movie Titanic! My husband and I decided to take a walk so we went up a couple of decks and tried to get used to the motion of the boat as it rocked back and forth. Eventually we went back to bed and by morning the sea was calm again.
Coming soon - Part 2 - Adventures in Greece