This is a sticky post that will remain at the top of my blog until The Ultimate Blog Party ends on March 14. Scroll down for newer posts!
It's time to party! Welcome to all of you who have never been to the "nest" before! This is just my little place where I write about the things I love the most. Things like my family, my church, my God, my hobbies, my books, and my sweet dog Josey. I joined the blogging world a little over a year ago - my I just never knew! I have had the best time meeting great people, learning new recipes and ideas, sharing prayer requests, and just having fun. Here are some things to know about me:
I love God with my whole heart.
I am married to the best guy in the world - and he happens to be a preacher. That makes me a preachers wife - and it's been a good life. God has blessed us greatly.
I have 4 amazing daughters. And two amazing sons-in-law.
I am going to be a grandmother TWICE this year. I can hardly believe it - my heart is just so full sometimes! I sense that my life is going to change for the better Big Time!
I love to read. I love to sew. I love to quilt. I love to garden. I love my kitchen. In fact I'm not sure who my BFF is - my Bernina or my KitchenAid.
I work outside the home. I don't love it so much.
I love my sweet dog Josey. She is a little Yorkshire Terrier and has the sweetest little personality. And she doesn't think I do anything wrong. Ever.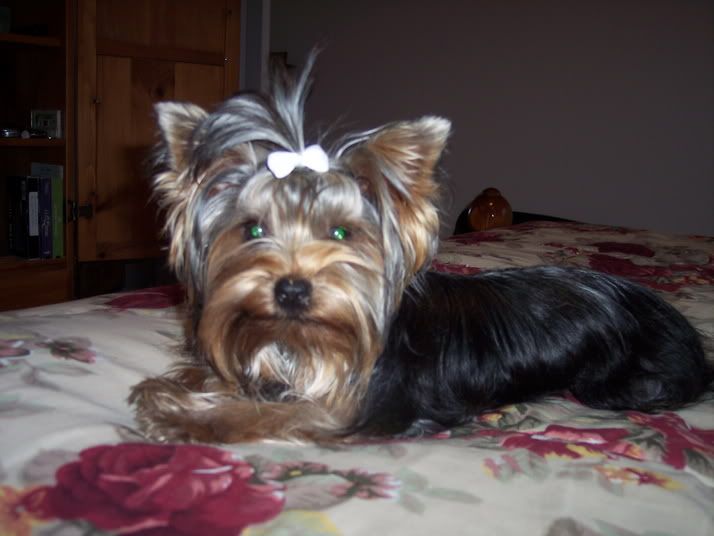 I'm so glad you stopped by. To celebrate I am going to have 3 give-aways. The first prize is a little Mary Engelbreit photo album. Second, a stack of fun fat-quarters (fabric), and third a pattern for felt Christmas stocking ornaments. Because it is never too early to start making Christmas ornaments!
I will use the random number generator to choose my winners. Three winners. Three prizes. Just leave a comment telling me which prize you would like the most! And you MUST leave an email address or a blog address so I can notify you.
Feel free to browse through my blog and get to know me better - I look forward to visiting you too.
Party on!